If you are a Tradie, or a Home Services Business owner who wants to grow your business or are struggling to manage the administration of running staff on multiple jobs on many sites simultaneously then ServiceM8 is for you.
The only difference between a large business and a small business is how the owner organises the business and exercises control.
"I will do it myself"
In a small business the owner knows everything that is going on, but increasing the workload become difficult as you get pulled away from using your technical skills into administration roles. You have less time to upskill staff, finding time to quote and invoice is a headache.
The constraint often means Tradies abandon their dream to grow.
'If you're not working to get your business to operate without you, you're thinking too small. Think team and systems.'
Robert Kiyosaki
ServiceM8 utilises Apple IOS technology to help Tradies manage their mobile business better improving customer service and satisfaction giving them more time for the fun things in their life.
What can ServiceM8 do?
ServiceM8 functionality you use in your business is controlled by you. Together we will determine what you need to start, knowing that additional functionality can be installed at a later date.
Benefits include, but are not limited to:
Speeding up the quoting and invoicing processes
Having jobs sthat can be set up by office staff, field staff and customers (within strict guidelines) reducing administration time
GPS tracking to the job and letting the customer you are on the way and your expected arrival time
Being able to see all of your jobs and who is working on the job
Giving you the ability to take an urgent job and identify which of your staff can complete the job and when
Matching job requirements and staff expertise creating efficiencies
Creating forms and checklist to speed up time onsite
Taking before and after photo's that are automatically recorded on the job
Creating a library of company procedures and how to undertake job instructions that enables staff and your expertise be accessible on site so things are done your way consistently
Providing your staff with increased confidence
Delivering customers a superior experience
What can't ServiceM8 do?
Replace your accounting system, but it happily works with Xero, MYOB and QuickBooks.
What can Four Eyes Accounting do?
A free no-obligation consultation to see if ServiceM8 is the right product for you
Scoping consultation how ServiceM8 will work in your business
Set up ServiceM8 for you
Create your business forms and checklists. The first 3 hours free of charge
Train you and your staff
Interface ServiceM8 to Xero
Provide 3 months free support after implementation
Provide a 25% discount on our Xero Oversight package for the first year if selected.
Modify ServiceM8 as your business needs change.
Investment Required
Scoping consultation. $500 – $2,500
Implementation $1,500 – $3,500 (maximum $5,000 for scoping and implementation)
Form and Checklist creation and implementation – $130 per hour
On-going support

$100 per month or
free for calls less than 10 minutes and $65 per half-hour thereafter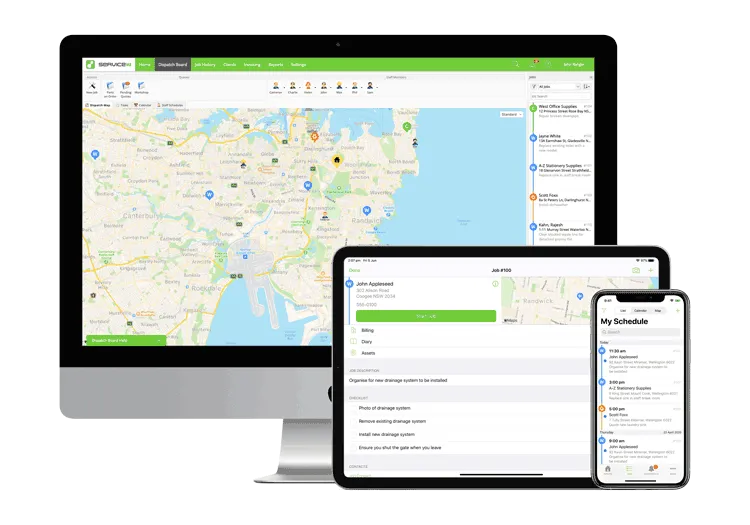 Access client and job details, view staff locations and schedules, dispatch jobs and generate quotes or invoices – wherever you are.